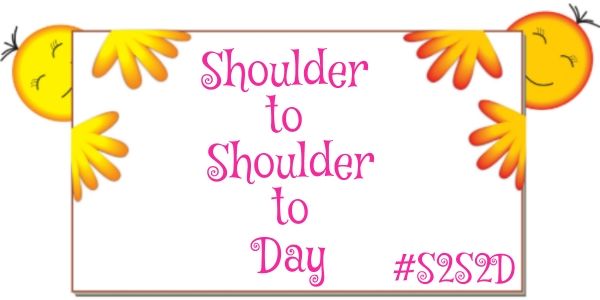 Shoulder to shoulder today is a blog hop – series of blog posts – hosted by different bloggers each day in support of Emma Day over at crazywithtwins. 27 year-old Emma is mother to a 5 year-old daughter and twin baby girls, and she has thyroid cancer. When Emma found out that the high dose of radiotherapy treatment she needed to undergo would make her dangerously radioactive and unable go near anyone else she said that she was heartbroken: 'I can't hold or kiss or feed or comfort my own babies for around a month.'
A group of Emma's blogging friends decided to step in and write daily, positive posts to support her, and to raise awareness of cancer. Thankfully, Emma's radioactivity came down to safe levels sooner than predicted and she's now able to hug her babies, but we're carrying on with the blog posts as planned. Today it's my turn to host #S2S2D, together with Sam at Up All Hours
Emma has a list on her blog of 30 things she'd like to do before she's 30 and number 17 is 'Try indoor skydiving'. Now it just so happens that I  tried indoor skydiving for the first time last week and it was fantastic, even though it made my face look like plasticine, temporarily, and left me with giant goggle marks for the rest of the day. I was with my teenage daughter and a lovely group of BritMums bloggers and children at the Windoor wind tunnel at Empuriabrava in Spain, as guests of the Costa Brava tourist board. Empuriabrava is one of the top places in Europe for skydiving and the wind tunnel is used by professional skydivers for training as well as being open to visitors like us.
In order to 'fly' in the tunnel, our lovely instructor Pali Rovnan told us to lie on our fronts 'like a banana', keep still, relax and breathe, all at the same time. Once inside the wind tunnel I found this easier said than done, but Pali was reassuringly close by, and I think that my weekly Pilates classes helped me to keep vaguely in the right position. Pali said that there's no minimum age limit at the wind tunnel, and children can join in as long as they're wearing all the safety gear – he took his daughter there for the first time when she was 18 months-old. This is me as a banana, trying not to dribble:
We each had two turns in the tunnel. The first time was just to get a feel for it and learn how to stay in the air. The second time Pali linked arms with me and we whizzed right up to the top of the tunnel and back down again really, really fast. This was exhilarating but not at all scary – until I watched my daughter do the same thing and I felt sick, tearful and terrified for a split second, even though I knew she was completely safe.
Emma, I really hope you get to try indoor skydiving one day too – it's fantastic fun.
Emma would like to urge people to get lumps checked sooner than she did. She's taking part in the Cancer Research UK's Race for Life this weekend, because she's marvellous. If you'd like to sponsor her, you can do so here.
If you'd like to share a post with Emma then please link up below, display the badge and tweet using #S2S2D and include @crazywithtwins.